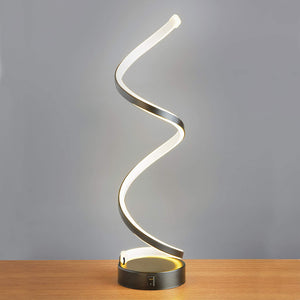 SPIRAL LED LAMP – This Spiral LED Lamp will make a stylish addition to your home. This decorative, indoor light feature is ideal to display as an ornament and would look great on its own or as a set.

BLACK FRAME – The Spiral LED lamp has a sleek black frame, to bring a touch of timeless elegance into your home.

STYLISH DESIGN – Its spiral design will complement your living space, with its unique look adding a touch of class to a room of your choice. Lightweight and portable, you can easily move the lamp from room to room depending on your mood.

TIMER FUNCTION – When you turn on the light, the handy automatic timer function means that the light will go off after 6 hours of being left on, then automatically turn on again after 18 hours. This means you can sit back and relax, leaving your lamp to automatically enhance the mood lighting in your home all evening.

WARM WHITE – The warm white LEDs encased within a neon tube will give off a soft, soothing glow and look great on your side table or coffee table. The lamp requires 3 AA batteries to work (not included).