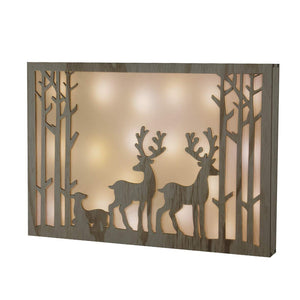 This adorable wooden ornament with a silhouette of 2 reindeer will be an amazing addition to your home this Christmas.
The ornament holds 20 LED warm white lights which allows you to see the scene in details as the lights glows through the screen.
The measurements are 40x28x4.5cm which makes it perfect for a table top, mantle piece or window sill.
The simple but effective design will be loved by all as it glows on all Christmas.