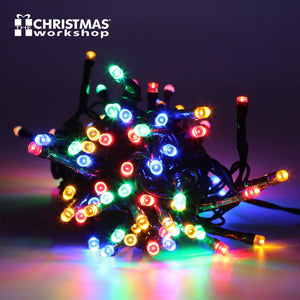 Introducing our versatile and enchanting Set of 100 LED Lights in Multi Coloured, perfect for both indoor and outdoor use. With a multitude of lighting options, these lights are designed to add a magical touch to your decorations, whether it's for Christmas or all year round. 
This set includes 100 LED lights in a soothing and inviting Multi Coloured. The Lights hue emits a cosy and inviting glow, creating a serene atmosphere wherever they are placed. They are designed for both indoor and outdoor use, allowing you to decorate your home, garden, patio, or any space you desire, no matter the season.
 What sets these lights apart is their versatility. They offer eight different lighting settings, allowing you to customize your lighting display to suit your mood or occasion. The settings include options like steady-on, twinkle, slow fade, and more. Whether you want a subtle ambiance or a lively display, these lights have you covered.
 LED technology is known for its energy efficiency, so you can enjoy the stunning lighting effects without worrying about a significant increase in your energy bill. While these lights are perfect for Christmas decorating, their Multi Coloured glow and multiple settings make them suitable for year-round use. They can enhance the ambiance of weddings, parties, birthdays, or any special occasion.
 The string of lights measures 8 metres and there is 8 metres of cable from the first bulb to the plug providing ample coverage for your decorating needs. Whether you're adorning your home for Christmas or creating a captivating ambiance for any occasion throughout the year, these lights are designed to add warmth and charm and to illuminate your surroundings with elegance and style.