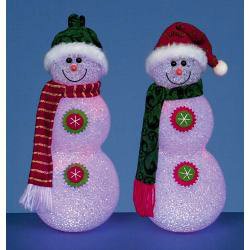 Introducing the charming 27cm Battery-Operated Soft Acrylic Snowman, the perfect addition to your Christmas decor! This delightful snowman figurine embodies the festive spirit with a whimsical touch. 
 Standing at 27cm in height, this soft acrylic snowman is just the right size to fit beautifully on your mantel, table top, or as a delightful centre piece for your Christmas display.  Crafted from soft acrylic, this snowman figure exudes a warm and welcoming feel. Its acrylic material gives it a gentle and cosy appearance that is perfect for creating a festive atmosphere.
The snowman features a classic and friendly snowman design, complete with a top hat, scarf, and carrot-shaped nose. Its cheerful face and welcoming posture are sure to bring smiles to everyone's faces. This snowman is powered by batteries for your convenience. No need to worry about unsightly cords or finding an outlet. Simply insert the required batteries (not included), and your snowman will light up with holiday cheer.
The magic truly begins when you turn on the snowman. With a simple switch, it comes to life with a captivating light display. The snowman's body softly and alternately flashes red and blue lights, creating a mesmerizing, festive ambiance. This battery-operated snowman is versatile and can be placed anywhere you want to spread Christmas joy. Put it on your mantle, dining table, by the Christmas tree, or even as a welcoming decoration by your front door to greet holiday guests.
Whether you're decorating your home, office, or giving it as a thoughtful gift, this soft acrylic snowman embodies the holiday spirit with its festive lighting and timeless design.
Get ready to create cherished memories and spread holiday cheer with this delightful snowman!